The Met goes camp!
Hola amigos! it's May already, and you know what that means...The Met Gala, huzzah! The Met Gala is officially my favourite red carpet. The Oscars are too careful nowadays, not enough risks are taken. The Met is truly a night for pure fashion, for a daring moment to remember, and this years theme, more than any before really encompasses this ideal... Camp
Well, I can't tell you how excited I've been for this one. Surely everyone would get on board and give us extra drama, especially when the Queen of extra, THE Lady Gaga, was a co chair of the event. Gaga, let's face it, eats camp fashion for breakfast. She's worn a dress made entirely out of meat and birthed herself out of an egg, so this red carpet should be right down her alley.
So what is Camp exactly? For me, it's joy, exuberance, over the top, extra, a nose up at the status quo, drag, laughter, colour, not taking itself too seriously, lacking taste, with a knowing wink and some wit. Basically all the fun things in life!
I think in the UK we have more of a love and history with the idea of camp. A wee nod to the "nudge nudge, wink wink", pop culture we were raised on. Think Pantomimes, Blackpool, pier shows, and Carry on movies. From Kenneth Williams, to Allan Carr, our televisions have always featured funny, irreverent, camp hosts. We also love a bit of camp in our Pop, just think of the lovely Kylie Minogue. So it's a theme very much close to my heart.
For fashion inspiration you can't go wrong with Cher and Bob Mackie, or Mugler and Moschino, all very much at home in the world of the ridiculous. Throw in some 18th century France and a dandy or two, and I'll be in heaven.
so for this red carpet I was hoping for lots of colour, sparkles, ruffles, and humour, and boy it didn't disappoint!
My hopes were definitely up after seeing some of the looks from the Pre show. Lady Gaga was not messing around in this fun Marc Jacobs look, with teeny tiny Delvaux bag. Eva Chen looks adorable in this Molly Goddard dress.
Of course she was going to shut it down. Gaga gave us 3 costume reveals, props and performance art in Brandon Maxwell.
Pose's Billy Porter made quite the entrance. Looking splendidly camp in full Egyptian fantasy. he came as a Sun God, dressed by The Blonds.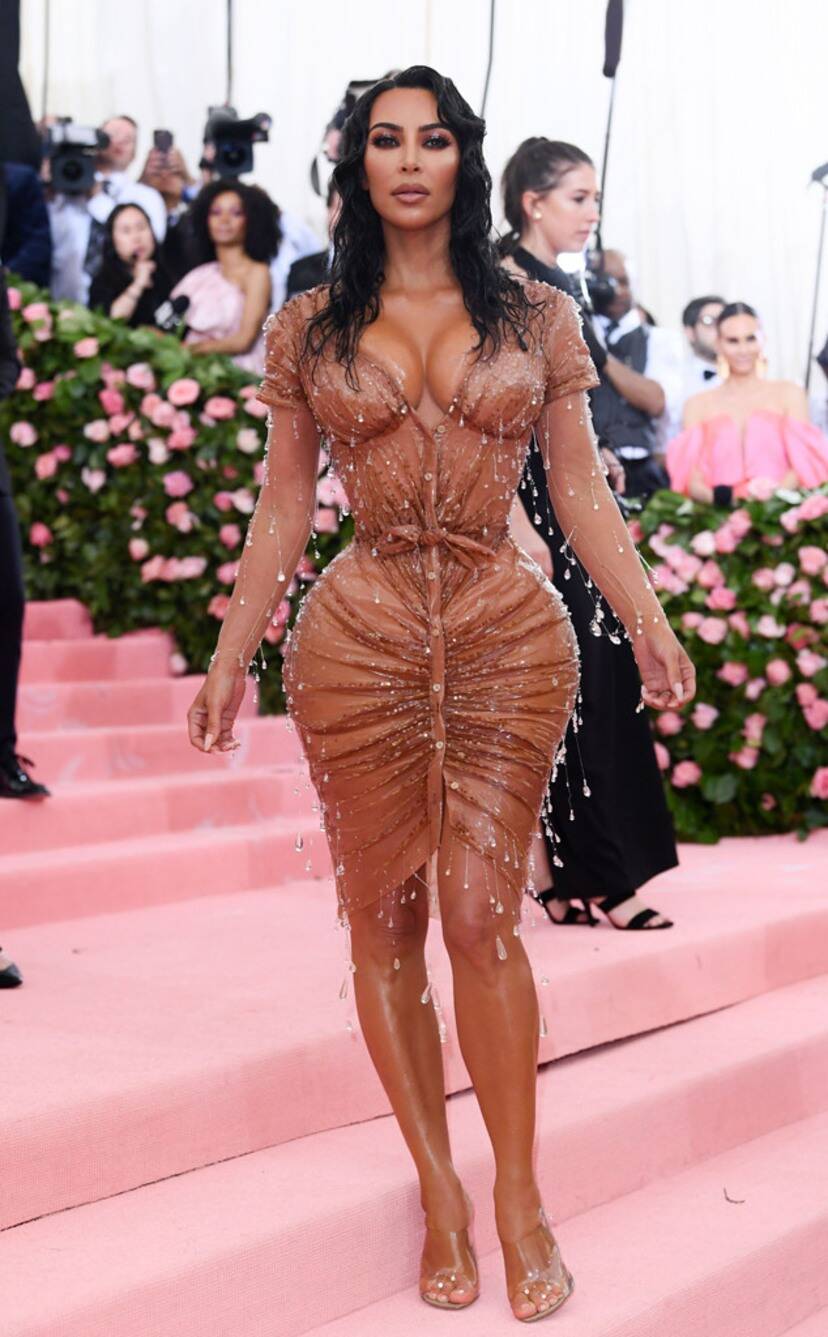 The dress of the night for me.You know It's special when Manfred Thierry Mugler comes out of a 20 year absence to make your gown.
At first I didn't see the theme in this look, but the nod to the past, the exaggeration, and the water droplets really make this one to remember. I cannot get over the construction of this garment. The corset is by the legendary Mr Pearl. The dress itself, (a take on Sofia Loren coming out of the water in a shirt dress) is made from silicone. Truly Haute couture!
Now this is camp! If you've not got a 10 foot headpiece on are you even trying?
Celine Dion being her truly bonkers self in Oscar de la Renta. Very Art Deco Erte, and Vegas Bob Mackie vibes.
Gemma Chan keeping it camp yet classy in Tom Ford.
Ok, no one can accuse Katy Perry of not adhering to a theme. Giving us 100% Lumiere realness in Moschino.
Moschino, tongue firmly in cheek!
Of course drag Queen and fashionista Violet Chachki would know camp and truly deliver, in this fun Moschino glove dress.
Kacey Musgraves is so cute as the Moschino Barbie.
Sparkles, and feathers and bows oh my!
Emily Blunt and Gigi Hadid in Michael Kors. Jennifer Lopez in Versace.
Eva Chen looking Feathery fun in Parabal Gurung.
The Queen herself, Anna Wintour looked incredible in custom Chanel.
Kylie and Kendal Jenner looked very festive and gave me slight Cindarella's wicked step sister vibes in Versace. Although when Kendal was on her own it was straight up Carnival fabulousness.

Pastel pink and sugary sweet! Lilly Collins in Giambattista Valli. Elizabeth Debicki in Salvatore Ferragamo and Lucy Boynton in Prada
Putting us wonderfully off kilter were, Jared Leto in Gucci. Janelle Monae in Christian Siriano. Tracee Ellis Ross in Moschino. Michael Urie in Siriano. Carla Delevinge in Dior. Ezra Miller in Burberry.
Let's hear it for the boys!
Now this is what I was expecting from the theme, Dandy, and some cabaret. Kudos to Hamish Bowles, Benedict Cumberbatch and Marc Jacobs for serving us maximum Camp!
Ryan Murphy in Siriano left, is giving an incredible homage to the king of camp, Liberace. Jordan Roth in Iris Van Herpen.
RuPaul and Dapper Dan looking very… well dapper!
Speaking of, Ashley Graham and Regina Hall both wearing Dapper Dan for Gucci.
Speaking of Gucci; Alessandro's army.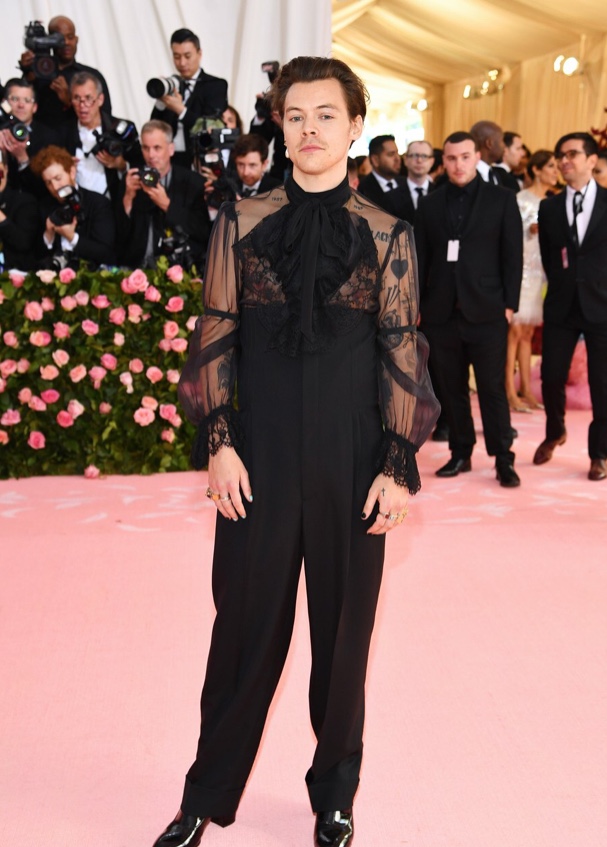 You know me amigos, I don't focus on the negative, but I cannot with this Gucci horror show that Harry Styles is wearing. He looks like some sort of sexy toddler/ penguin.
Or is it humpty dumpty realness.I just cannot. Maybe it's the fit, the waist should be tighter.
From Red carpet to the exhibit
I had hoped someone would wear one of the fantastic Viktor and Rolf dresses from the latest collection, and actress Hailee Steinfeld obliged. The dress on the right is featured in the exhibit.
I knew Cardi B would enjoy the theme, after all one of her latest red carpet outfits by Mugler is actually in the exhibit. Seen left in Thom Browne for the Met Gala.
Photos from the exhibit. From Flamingos to swans. Liberace to logo mania, this exhibit looks bonkers, and I'm totally here for it! Fingers crossed it makes its way to the V&A London soon.
Katy was an actual Hamburger for the after party, lol
Have a wonderful weekend amigos!
See you next week,
Love Pamela xxx
Kenneth Williams approves