Céline
Hola amigos.
When Pheobe Philo announced her departure from Céline, and Heidi Slimane was announced as the new creative director I was really disappointed. He has such a strong aesthetic that he sticks to so rigidly, (A rock 'n' roll, bright young things look that he brought successfully to YSL). I was doubtful he would stray from that, and it looks like my fears were warranted after seeing his debut collection this last week. It was everything I hoped it wouldn't be, 80s, black, sparkly, YSL the redux and most disappointingly for me, young, super skinny girls with short skirts and high heels. Sigh. Basically the anti Pheobe Philo. Now, don't get me wrong, designers should, and must have their unique point of view for the brand, and I'm not against women being overtly sexy, but to eviscerate the "Céline woman" that we have loved these last 10 years seemed so brutal to me. I would loved to have seen his take on this, not his ingenue that we've seen over and over.
The ads. Céline women in all their glory. Shot famously by Juergen Teller.
So Instead of looking at his collection, I thought I'd concentrate on what I adored about Pheobe's Céline, and look back at some of my favourite moments and what the brand has meant to me.
Beginnings.
For me, like so many people, it starts with accessories, I think I really started to take notice of the brand when the Luggage tote bag came out. I was instantly obsessed, I still am, even after 8 Years. I was so smitten with all the accessories, they just spoke to me. They were quirky, laid back, cool. Not logo loud, yet absolutely shouted "look at me!" In the best way possible.
The Luggage, what a bag! My Navy Phantom left, and black classic, right.
Over the last 7 years I've collected bags and shoes whenever I could, they have punctuated the milestones in my life, from gifts from loved ones to celebrations. My blue suede Trapeze bag was a gift from my husband in the early stages of pregnancy to celebrate, after enduring fertility woes, IVF and then, gratefully yet miserably in the throes of constant morning sickness. I was given the Maroon, ballet block heels for my first Mother's Day, I bought a black luggage bag with the money my beloved gran left me. My Gran and I shared a love for shopping, and for shoes and bags in particular, although she preferred much more glamorous and gilded designs to Philo's cool modern aesthetic! So you see, they're personal to me. When I think about it, they're all connected to points of happiness, celebration, triumph, loss. Life. Which seems so fitting from a brand that empowered the way women looked and felt in their every day.
Getting new Céline has always been a celebration for me.
So let's look at what started my love affair with Céline in the first place…
The bags!
Now the head designer for Mulberry, Johnny Coca was in charge of leather goods and accessories for Céline, working directly with Philo. The bag that drew most attention to the brand was the Luggage tote, which came out in 2010, although I think it became the real "IT bag" probably around a year later after being seen on the arm of countless celebs. I love what they achieved together. The bags so beautifully represent the vision of the brand. My first one was a navy blue Phantom Luggage, that I got in Paris for Christmas in 2012. I was beyond excited to buy it, as it was so hard to find, especially in Barcelona. Next for me came many of their two tone pouches, a Trapeze, a Cabas tote, a Trio, and my favourite, the original, black luggage tote.
Bags, bags, bags, bags, bags, bags!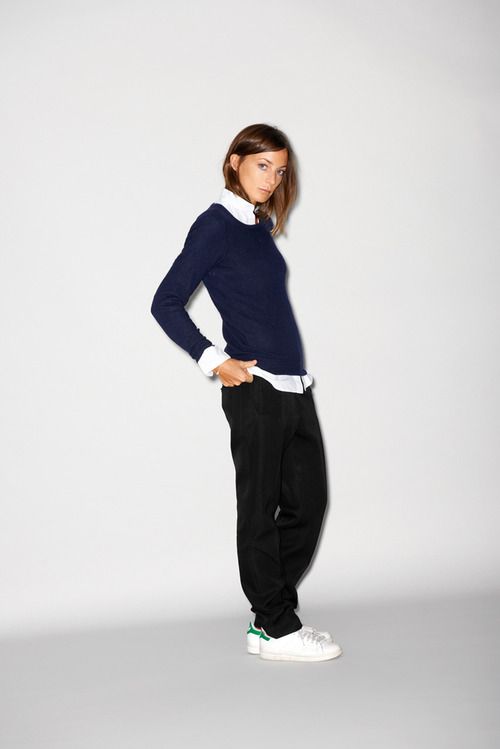 Philo looking effortlessly cool in her Stan Smiths.
Shoes.
I think we can all thank Pheobe for the success of the Stan smith, and for the glorious white sneaker trend, long may it reign!
Phoebe Philo had the idea that women were so confident in her clothes that they could wear an ugly shoe and still feel invincible. I must admit, there's been a few I thought really tested that theory to the limit! But I love that she really pushed forward the idea of freedom of movement, comfort and quirkiness in all aspects of the brand, especially in the footwear. People that may know nothing of Pheobe or Céline probably have no idea she's responsible for our sneaker obsession. I instantly fell in love with the ballet flats and ballet block heels when I saw them for the first time in the the S/S 2015 collection. The flats remind me of those cheap ballet shoes you would get as a child that were all rouched at the top, you know the kind you would get before your mum would buy you the proper ones, and I LOVE them for that!
Céline sunglasses and opticals always make me feel like a badass!
Heading out for the interview for my Fashion degree course I took my Céline bag, as it always gives me a boost of confidence.
Zero interviews and socials.
Another area that set Philo apart was her deep reluctance to engage publicly. She said that she was there to do the job and not be a "face" of the brand. Over the years I may have been frustrated I couldn't buy Céline online, but I did respect her desire to let the clothes do the talking and ignore the social media tsunami.
The one that got away. Cashmere gorgeousness. I bought the luggage bag instead.
The Clothes!
For some lucky people wearing Céline ready to wear is a possibility. One of my favourite shows was A/W 2013. It was so gloriously luxe, minimalist, yet interesting and cosy. I was obsessed! Copy cats swept the high street immediately, and the laid back, cool minimalism trend was everywhere.
But Pheobe is anything but norm core. When everyone was copying that collection, she came back with new ideas of proportion, silhouette and artistic influence. She never made it easy, Céline women dressed for themselves first and foremost. These are not clothes for the very young teenage girl that so much of fashion is obsessed with, but for women.
Some of my favourite moments from the last few seasons.
Top L-R, Summer 2015, Summer 2014, Pre Fall 2016.
Bottom, Pre Fall 2016, the Yves Klein dress from Summer 2017, Summer 2012.
My one regret is that I don't have more of her clothes. What I do have will be protected at all costs now! I, like most people can't afford to buy luxury ready to wear. If I have some money, my first port of call would always be to invest in a bag, or have fun with accessories. Thankfully I have lots of lovely Céline bags, shoes, and sunglasses to enjoy. I tell you amigos, If I had any spare cash right now, I would be running into that store to buy every last piece of clothing they have!
So where do we go from here, who do we look to to fill this giant hole in our sartorial hearts? The smart money seems to be on Jonathan Anderson's Loewe.
I think the solution is to wear clothes that empower women, that make us feel incredible in our day to day lives. After all, that really is Pheobe Philo's legacy at Céline. She created extraordinary clothes for the everyday, clothes, not for the red carpet, but for women who wore them to work or play, and to present themselves to the world. Even if we personally never got the opportunity to wear Céline, she influenced so many designers, and the entire high street, so she infiltrated our every day lives even if we might not have been aware of it. Zara basically had her A/W 2013 "collection" in stores before she had! lol
As a Philophile, I know I'll be interested in what comes next for Pheobe, but until then I'll be grateful for those glorious "Céline woman" years we had.
Céline moments. From my navy silk blazer, to my toddler and puppy trying to steal my luggage!